OUR TEAM IS RESPONSIBLE FOR PRODUCING MEASURABLE AND ACCESSIBLE RESULTS
ello - Events & Marketing dominates all stages of Events, Workshops, Congress and Conferences Organization and Management, as well as the promotion campaigns using 360 Digital and Mobile Marketing. From the creation of Website, Blogspot, SEO, Traditional and Native Ads, Digital Campaign Planning, Graphic Art, Diagramming and Content Management, to the Development and Execution of Interactive Flyers for Mobile Marketing and Social Networks. Monitoring Reports Containing Campaign's Scope and Depth, as well as Bulk Shot to Customer Targets.
Leave it all to the ello team!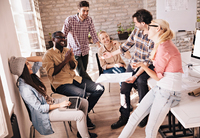 Competent professionals engaged in content generation and 360 digital marketing strategies, promote personalized customer services. Clients constantly warn us how much they appreciate our work. The only thing that is better, is when a new customer tells us that they have heard about us from another customer. For us, the references are the final compliment, when a Client tells us, and you, that we are good at what we do.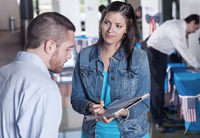 Some Clients Testimonials
COMPANIES AND ACADEMIC INSTITUTIONS
Eloisa Martins Alessio
PPGA / FEA - USP
"I almost gave up finding a decent Mobile Marketing service to publicize the University Events and Workshops, and then we contacted ello Marketing. The work they do is exemplary, the staff is excellent. Best of all, they are incredibly welcoming."

Andrea da Hora
CEO / DINA FAZ
"Enim ad minima veniam quis nostrum exercitationem ullam corporis."